Forget About Praying Long, Boring, Complicated Prayers...
GET YOUR PRAYERS ANSWERED 
EASILY & MORE POWERFULLY AT THE SAME TIME
Prayer Rock-It Prayer Boosters Will Take Your Prayer Life to a New Dimension ...

Prayer Rock-It is smart and sweet. Simply put, it's booster fuel for your prayers. It will thrust your prayer life into a fresh direction so you can get everything you need and want.

Each Prayer Booster targets a specific need or situation that you and others may be dealing with right now.

It gives you a

simple 4-part prayer-pack

that will stir your faith, punch your prayer with the power of God's Word, and help you get your prayers answered quickly.

200 Prayer Packs that Will Fuel Your Prayer Life FAST!!!


What's Inside?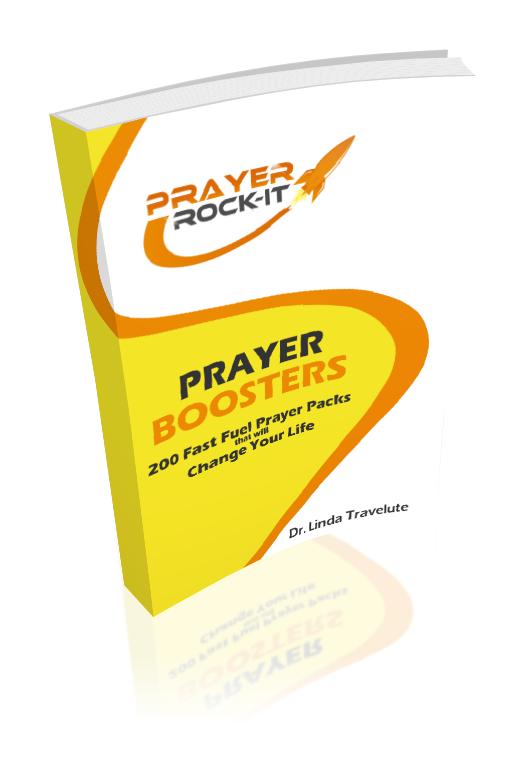 200 Fast-Fuel Prayer Packs that will Change Your Life


Need a miracle but not sure how to approach God about it? Got a need, but not quite sure what to say when you pray?
No problem! Prayer Rock-It Prayer Boosters gives you over 280 pages of specifically themed prayers that are hyper-linked to scripture so you can pray them with power immediately.
Whenever a need comes up, you'll have a prayer to pray so you can get everything you need & desire.
When You Use Prayer Boosters You Will:
Get you out of your prayer-ruts so you can pray with more variety.
Break the limits off your prayer life so you can experience freedom.
Reactivate your prayer life so you can talk with God like a freind.
Hyper-link scripture to your prayers making them more powerful.
Stir up your faith so you can be energized and ready for anything.
Bump up your belief level and fill you with HOPE... so you can finally get your prayers answered!

 
"Dr. Linda's Prayer Rock-It has been an inspiration to me from day one. I feel like my life has been launched in a whole new direction…the right direction!" 
"Prayer Rock-It helped me realize all scripture is God breathed, what betterway to pray then praying Gods promises back to Him.  Then speaking and affirming the prayer out loud helped me believe it and made it real.  I know I am on my way to financial peace."
"Dr. Linda's Prayer Boosters are simple, and they come straight from the Father's heart.  Prayer Rock-It is an expression of mentorship in my spiritual life and has also become my helper in my daily walk with God."
Do you want to be like these people and give your prayer life a boost so you can get everything you
Prayer Boosters cover unique prayer topics like: 
Healing is Yours
Facing Your Future
Keeping Calm & Finding Peace
Finding Forgiveness & Getting Revenge
Living Guilt-free
Stess Relief
Pain & Suffering
Relationship Fixes
Financial Breakthrough
Sizzling Marriage
The Single Life
Kids and Teens Issues
And So Much More!!!

Get Prayer Rock-It Boosters NOW so you can pray prayers that pack punch!
These 200 Fast-Fuel Prayer Packs will Change Your Life. They're Ready for You to Access Now. Get it today - Start praying quick, powerful prayers right away.
Normally $20.00 - Today, you can grab it for just $14.99
To download immediately, click on the button below to order.